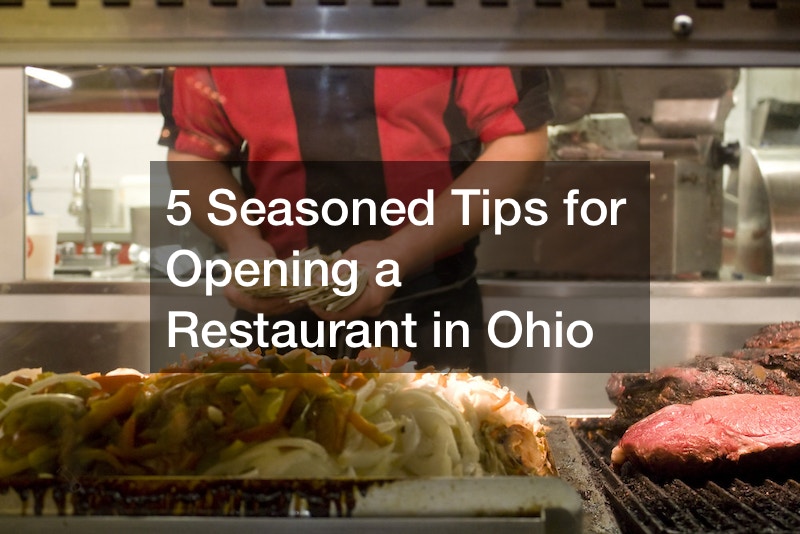 5 Seasoned Tips for Opening a Restaurant in Ohio

So, you want to open a restaurant in Ohio? You've got a great idea, a chef (or some recipes), and a bright vision in your mind of personal and professional success. It's time to make it a reality!
However, you should know that the path to opening a restaurant in Ohio isn't always quick, simple, or easy. There are plenty of legal and logistical hoops you'll need to jump through to make your restaurant a smashing success. And, if you want to stand out in Ohio's competitive restaurant scene and make a name for yourself, you'll need to do more than fill out the correct forms. You'll need to brand your restaurant the right way, work with the right people, access funding, and avoid the worst mistakes that sink restaurants in Ohio. In this article, we'll look at 5 seasoned tips that will put you on the fast track to success in opening a restaurant in Ohio.
1. Ensure Your Facility Works
Opening a restaurant in Ohio is exciting, and the journey starts with a building. In a major city like Columbus, Cleveland, or Cincinnati, you'll have more options available to choose from, but you'll also face more competition and higher lease costs. In smaller cities or towns, you can spend less on the facility, but you might also need to make upgrades or adjustments to get the space you need.
If you are on the lookout for the perfect restaurant location, think about these key factors:
Location
Space
Appliances that are included (ovens, stovetops, dishwashers, etc.)
Regulations and Permits
Cost
Where your restaurant is located will have a big impact on the foot traffic you attract. No matter how great your food and marketing are, if people need to go out of their way to reach your restaurant, they might choose a closer option. The best location for a restaurant is an area where people spend time working or shopping. The more people who walk by your location daily, the more likely you are to get customers off the street.
The amount of space you need depends on the kind of restaurant you are opening. Higher-priced restaurants generally have more floor space, while cafes and eateries can get away with just a few tables. Ask yourself – is this restaurant for people to grab a quick bite to eat, or celebrate a special occasion?
The appliances included in the facility you purchase or lease are very important. You can save thousands of dollars by choosing a facility that is already set up for the kind of restaurant you want to run, complete with things like ovens, stovetops, refrigeration, and water heaters. You'll also need to ensure everything is in working order, by hiring a local electrician, HVAC technician, and other professionals to evaluate the facility.
Your facility will also need to adhere to important regulations, including zoning restrictions when opening a restaurant in Ohio. Ohio is a 'home rule' state, which means that the cities and villages handle their own zoning. However, counties and townships don't have home rule, so they are less flexible and must adhere to state guidelines. You will need to find out what your local zoning authority is in Ohio and speak to them directly about whether your facility is in the right spot to become a restaurant.
Last, but definitely not least, you need to think about costs. Be especially careful to factor in the expenses that could come from making upgrades or adjustments to the facility. If you buy or lease space as it is, you know what the cost will be. If you are upgrading, you can only estimate.
2. Secure Your Business Financially
You can make a great profit from opening a restaurant in Ohio, but only if you can put up the initial investment and keep the cash flowing. You will need to pay for the location, purchase inventory, and pay your staff. That means that before you can start serving incredible meals you need to have your finances in order.
Business loans are a great way to get started, and in Ohio, there are plenty of lenders willing to go into business with you. The Ohio government and business community want your restaurant to be a success, so you can employ Ohio residents and help grow the economy. With the support of Ohio government projects like GrowNow, you can borrow money to grow your business with lower interest rates.
You also want to protect yourself with insurance in case you need to close due to property damage. Commercial insurance can step in to help you pay for expenses and cover payroll if your equipment breaks down or your business needs to close due to a fire or natural disaster. For a restaurant that is dependent on a physical location, it's essential to have this kind of protection. There are many reasons a restaurant might need to close, and if you can't afford to keep the cash flowing without the regular business income, you could find yourself in a tight spot. Commercial insurance can protect you and keep you in business.
If you have money on hand, opening a restaurant in Ohio is a matter of logistics. Without cash, your business is in trouble. Before you get started, make sure you have the right seed funding to open your restaurant the way you want to, and that you are protected in the event of a fire or natural disaster that could force you to close.
3. Prepare for Inevitable Problems
Eventually, something goes wrong. This is a near-universal truth about large projects, and it's definitely true of opening a restaurant in Ohio. No matter how you prepare, you'll need to think on your feet to address the challenges that arise.
However, the more you think ahead and envision the worst, the more prepared you'll be. Sometimes there are perks to being a pessimist, especially in business. Asking yourself difficult questions that other business owners often don't, like 'what will I do if the basement floods?' or 'how will I keep food from spoiling if the refrigerator breaks?', can be the difference between a disaster and an inconvenient pivot.
A smart businessperson opening a restaurant in Ohio has a plan B for these kinds of scenarios, so it isn't a scramble to figure something out at the last minute. A refrigerated trailer rental company could help resolve a temporary refrigeration or electrical issue that could otherwise end up ruining your entire inventory of perishable foods. A basement waterproofing contractor can help you prevent a flood during a storm – or literally help bail you out if you do get flooded. Having professionals like this lined up in advance can make a huge difference.
4. Show Off Your Aesthetic
The visual look your restaurant has will be a big part of your marketing and will be one of the things your customers remember most about their experience. Ohio has a competitive restaurant industry with some visually dynamic locations, so if you want to stand out and make an impact, you'll need to closely consider the kind of atmosphere you want to create, and enlist the best contractors available to help you make it a reality.
For many business owners, this is the fun part. The dream you have been imagining will become a reality!
Don't get ahead of yourself, though. You can be creative with how you decorate your restaurant and make it your own, but remember that the visual aesthetic you put out there is a marketing tool that can attract the customers you want – or push them away. Restaurant owners who design the restaurant they like the most rather than the restaurant diners are looking for are running a major risk. You could end up designing something that looks great to you but doesn't pull in customers.
Your aesthetic is more than just design. It's branding. A homestyle diner shouldn't be full of modern art, and a high-end Italian restaurant should not include dinosaur statues. You want the visual appearance of your restaurant to match the ambiance you are trying to create, the food you serve, and the experience diners come to you for. Get out of your own head, and imagine your ideal customer. Design for what that person wants, not just what you think looks best. If you have the budget for it, a commercial interior designer can help you create a look that sells.
When you know what you want your restaurant aesthetic to be, you need help to make it a reality. Skilled and experienced contractors can bring your vision to life, and improve on it. From the bar wallpaper and tile floors to furniture and menus, you'll need to enlist creative professionals who understand your vision. Make a list of the contractors in your area who might be able to help you, even before you have the aesthetic entirely sorted out. You'll find that there are business sign makers and printing companies, contractors, artists, and designers who can improve your aesthetic and help you bring in more business starting on opening day.
5. Get to Know Local Distributors
Making a list of contractors can help you get set up, and help you get out of unforeseen emergencies, but it's local distributors who will be the partners you'll deal with every day of restaurant operations. They'll keep you stocked with all of the commodities you need to stay in business, from the raw ingredients you turn into culinary masterpieces, to the propane that fuels your stoves and the soap that washes your dishes.
Having a close and positive relationship with local distributors is key to getting the best prices and service when opening a restaurant in Ohio. While you might be able to get some great deals from large national companies, most of what you'll need will be local, and that's a good thing. Local ingredients are the freshest and highest quality, and local businesses can provide a level of service and support that conglomerates can't match. There is also a great sense of community and camaraderie that develops between business owners in Ohio.
Long before you open your doors for business, you can pick up the phone and contact a local propane delivery company, a wholesale food distributor, or a local ice cube distributor in Ohio to make introductions and get an understanding of what working together might look like. Most local distributors are very open to these kinds of prospective discussions and can provide solid numbers that will give you a better sense of what your restaurant's real running costs will be.
Opening a Restaurant in Ohio the Right Way
There is so much to think about when opening a restaurant in Ohio that it's easy to get overwhelmed. Between financing, regulations, construction, hiring, and sourcing, you need to wear many different hats. The key to making it easier on yourself and ensuring your success is to plan things out from the beginning, be ready for the unexpected and enlist the help of other professionals who can help and support you.
You can set yourself up right by following these seasoned tips:
Choose the right location and facility for your restaurant, needs, and price range.
Secure the funding you need, and insure against unavoidable risks.
Have a Plan B for possible disaster scenarios, and expect the unexpected.
Find the right branded aesthetic for your restaurant, and bring it to life with creative professionals.
Network with local distributors.
Opening a restaurant in Ohio will be an adventure. Every business has its own story of unexpected setbacks and eventual victories in the market. If you follow these tips, you'll be able to sidestep at least a few of the worst pitfalls and put your business on a reliable path to growth and success.