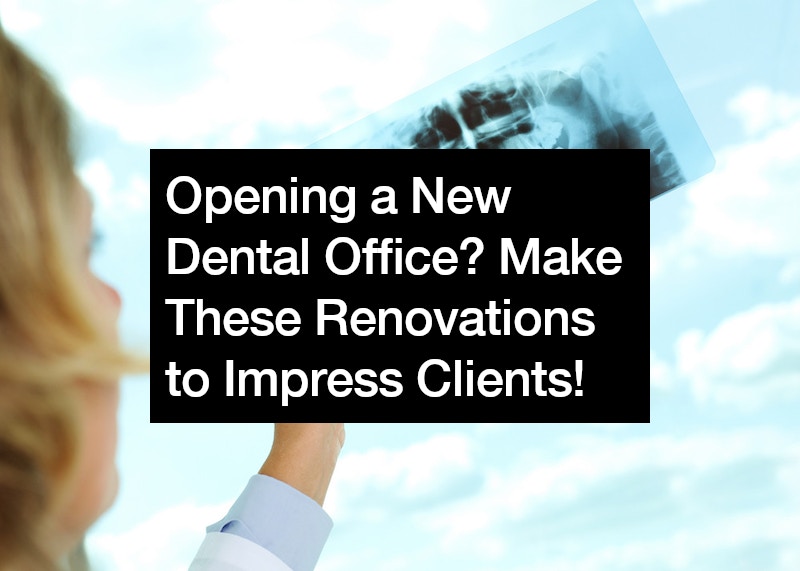 Opening a New Dental Office? Make These Renovations to Impress Clients!

If you're opening a new dental practice, you'll probably already be aware of some challenges like getting your name out through marketing, reaching patients, and keeping the doors of your practice open. It takes a lot of hard work to be an entrepreneur and even more so to market and be a business owner and do it all at once. Besides marketing strategies, there are also physical changes you may want to adapt to your building to get it functional with a patient-centric feel and focus.
Today's article draws a closer look at some valuable changes you could make to your practice if you are opening a new dental office in your local area. It would be best if you also considered the team that will support you and your patients, and making things comfortable to enable productivity and maximum support is vital.
What To Ask Yourself Before Opening Your Practice
Opening a new dental office is exciting, yet stressful at the same time. Still, any new venture can present mixed feelings, but that's okay. If you are looking to open a new practice, before going ahead with anything, first ask yourself the following questions.
Do I have the capital for a new practice?
If you've been partnered at another dental or medical practice and have recently decided to venture on your own, bear the capital in mind. Knowing if you have enough funds to run your business is essential. With a partner or partners sharing a practice, it helps cut costs on many things, and the responsibilities are split amongst everyone with stakes. When you venture on your own, things are entirely your sole responsibility.
Where will the practice be?
If you're opening a new dental office, your location is key to getting patients through the door. You may be in a residential area with many families and schools nearby; this could make an ideal location. Families need dental care; in fact, everyone, including single people, professionals, retirees, kids, and parents, all need it. Having your practice here might be a great idea.
What are my requirements for space?
When considering the space for opening a new dental office, you should also consider the waiting area, work areas, and restrooms for the team and patients. Also, remember that the bigger the practice, the more the asking price or rent will be. Factor this into your capital requirements as well.
Efficiency Counts in Your Favor
You can be efficient accurate and deliver excellent service for your patients no matter where your office is located. One of the things to bear in mind is your patient's time. You should ensure that you work swiftly and not let them wait too long in the waiting room. If an individual has an appointment with you at 9:30am, then ensure that they are attended to on time.
Sometimes unforeseen issues may occur and cause a delay in the time frame and management but take the time to apologize. Even as a prestigious dentist, your patients are still at the core of the success of your private practice. Treat them as such.
Ensuring the Building is 100%
Sometimes, when purchasing a building or property, and in this case, an adequate space as you're opening a new dental office is not always what it seems at face value. For instance, the property might look like it is in tip-top condition when lurking beneath the crevices and surface are some issues that cost you lots of money if they don't get fixed early.
You may have issues with the basements and might need professionals to do a complete basement foundation repair on your property. This can be costly depending on the damage, but at the end of the day, it will resecure the structure and prevent any further damage.
Furthermore, you can also check the foundation of the building and have the foundation repair service assist you with what you need to be repaired and secured on the building regarding these structural points.
Resolve Plumbing Issues
Just like with the basement and the rest of the building, plumbing is essential, and it allows for consistent water supply, which is often needed during dental treatment. A plumbing service company may come out to have a look at all the plumbing of the building and assess what work needs to be done. In this way, they can eliminate anything that isn't necessary. At the same time, get down to fixing the plumbing and all the aspects involved.
Make Your Dental Practice Kid-Friendly
Kiddies often remember their experience at the dentist, and if they've had several bad experiences, it tends to stay with them into adulthood. This is where dental anxiety could stem from. Bad dental experiences are always remembered, and the dentist is avoided altogether.
Instead, make the practice kid-friendly, too, with bright colors, pictures, and activities to keep them busy. You may add a kiddie's corner in the practice so that even if they weren't coming for their teeth, they would still enjoy being there because of the fun activities. As a kids dentist, you can encourage the parents of the children and talk to them about how important brushing their teeth every day is. Other dental care tips include limiting sugar foods, brushing the tongue too, wearing a gum guard when playing sports, and visiting the dentist regularly.
Welcoming Front Desk
Countertops are used throughout dental practice. If you're opening a new dental office, you may want to install enough counter spaces for your team and yourself to work. A welcoming front desk is always a plus as it is open, modern and has a friendly staff behind it to assist your patients.
Other worktops are also essential to add for convenience and space. If you look at countertop materials, they can range from stone, stained concrete, composite, engineered stone, wood, granite, and vinyl.
Keep It Clean, Neat, and Simple
It's always nice to walk into medical practice and observe the freshness and cleanliness of the establishment. It gives one confidence to know that the place is clean and extra care is taken to keep it germ-free and safe. When choosing finishes and fixtures, try to keep things simple and easy. Don't overcrowd the waiting or dental working area. Simplicity is a lot more positive than having too much that a place looks too full.
For the décor, also keep things simple and neutral. Do add some pops of color to liven up the place with bright blue, orange, yellow, or green since these are soothing and energizing. You can also use modular furniture pieces to be able to move it around if you need to. Investing in durable chairs, flooring, and all the high-traffic foot and seating areas of your practice is essential.
Use easy-to-clean and durable surfaces and textures. Since you are running a commercial place that will attract many people, spills, and dirt are bound to happen. But it is easier to keep the place spic and span if the materials used are also easy to clean and maintain.
Make Your Dental Office Accessible
Accessibility is a critical part of running a medical practice as you need to cater for everyone. In fact, this doesn't only apply to medical facilities, but it should apply to residential estates, shopping centers, and everywhere. So, does your dental office have accessible features? If not, you should renovate it to accommodate things like wheelchair ramps, handle grabs along the walls and for seating, good lighting, and clear markings of steps and large windows.
Make Sure That the Roof Is in Good Condition
Even though you won't be spending all your time at the practice, most of your working hours are on the job, and just like your home, it must be competent. The roof, for instance, might need repairs or even an entire roof replacement if the roof company deems it necessary. The roof helps with insulation and secures the building structure or part of it. Sometimes, your roof might only need some repairs like resealing or replacing roof tiles or shingles. The experts in roofing will know what to do, and you can find a reputable roofing company in your local area
Installing Solutions for Warm to Hot Water
Every establishment could use hot water, including your dental facility. Water heaters are going to save you more money to install, run, and maintain than boilers would. The major difference between the two is that a boiler works to help heat the home, while water heaters heat water and can be used in the kitchen, canteen, and for cooking.
A plumber in your local area will be able to help install water heaters on your premises for easy hot water solutions. You can get some quotes, and as you progress to checking off your to-do list for making your new dental practice great, you can also check off the plumbing for the water heater.
Parking for Patients
If you're opening a new dental office, you should also remember to provide safe parking for your patients. Having the peace of mind that their car is safely parked and secure is one less stress your patient can enjoy when visiting your practice.
Hire asphalt paving company specialists to assist with repairs and even the installation of new asphalt paving. This is an affordable material that is also robust and looks tidy when looked after. Why not use this for the parking areas of your practice?
Good Communications Between Front of House and the Back
Try to install IT solutions that will make communications better and simpler between staff members. There should also be a clear communication line from the front desk to the back of the practice, whether a phone line or something else is just as effective. You can also add efficient computer software to manage teams on duty so that there are smooth communications even when they switch shifts, and team one has to pick up from where team two left off for a shift change.
Your Tools are Immaculate and Effective
Your dental tools used on your patients are supposed to be comfortable for the patient and for you as the user. Using uncomfortable or old-designed tools might lead to hand fatigue or cramping. Invest in quality tools that also have the support of your hands as one of the core features.
Keep all the tools in pristine, clean condition like this, just as your whole practice directly reflects on you as a professional. Your patients can see and may notice even little things, but if it seems unimportant, don't overlook it.
Work on the Curb Appeal
You may be looking for a place to set up your new dental practice and might have found the ideal spot. However, your new property needs some oomph for the curb appeal; thus, you may want to call in the landscaping experts to help you out. Adding a beautiful garden-like front section is wonderful and inviting. But because of the maintenance that comes with a garden, some people prefer hardscapes, which are beautiful too, with low-maintenance flowers.
Bring Nature In
You can also add easy-to-maintain plants into your workspaces at the front desk and throughout the practice. A touch of plants, a living life source, is always a wonderful de-stressor, helping to uplift and improve the moods of your patients and your staff.
Add Large Windows Inviting Natural Light
Installing large glass walls and sliding or folding doors to your dental office will create a beautiful setting with natural light. Natural light can help warm the place without using the HVAC system, and it is also a good mood booster. It would help if you also paired window treatment with your large glass windows and doors. These may include shutters or blinds so that you can control how much light comes through.
You may be a dentist specializing in TMJ care, other general dentistry, or cosmetic dentistry; whichever part you specialize in, your dental office still has to look the part. Try some of these alterations if you're opening a new dental office and see how it improves things. Have you recently bought a practice and are looking to turn your property into something for patient excellence? Get started today.