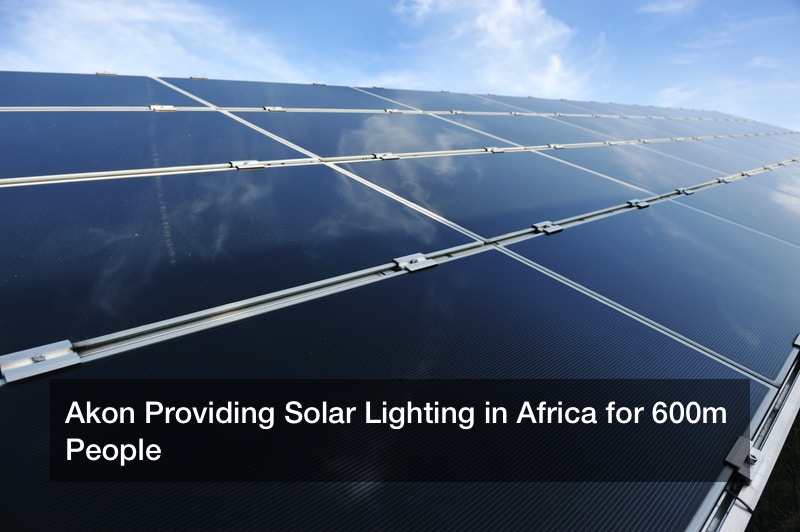 Akon Providing Solar Lighting in Africa for 600m People

Akon Providing Solar Lighting in Africa for 600M People
Senegalese-American singer Aliaume Thiam, popularly known by his stage name Akon has joined the list of celebrities giving back to the community. The Grammy-nominated hip-hop artist says being a successful entertainer has given him the platform to make a difference in Africa.

Video Source
Together with Thione Niang, Akon launched the Akon Lighting Africa in 2014 with the aim to provide solar energy to those without electricity in Africa.
"To be able to facilitate the needs of millions of people in Africa has always been a dream of mine," Akon said. "Our main goal and initiative is to become the key tool to help Africa's growth, utilizing the youth of Africa to be the main catapults of making that happen.
"
According to Akon, he and Thione grew up in a town without electricity which inspired them to drive Africa's transformation by providing solar energy. They also stated that millions of Africans die annually because of toxins or fires from harmful fuels in their homes.
"Africa, with its 320 days of sunshine a year is perfectly suited to the development of solar power, particularly since 622 million Africans still do not have access to electricity." Thione Niang said.
With this in mind, Akon Lighting Africa intends to provide a solar solution that will enable Africans to access safe, clean and cost-effective electricity source.
Akon Lighting Africa partnered with Solektra International, an African company specializing in commercial solar services and water treatment. Together, they launched the project in 2014 and aimed to install solar streetlights.
They now employ over 5,000 people who install and maintain solar equipment.
"We have the sun and innovative technologies to bring electricity to homes and communities. We now need to consolidate African expertise, and that is our objective.
" Solektra International CEO Samba Bathily said.
Samba added, "We are doing more than just investing in clean energy. We are investing in human capital. We can achieve great milestones and accelerate the African transformation process on condition that we start training a new generation of highly qualified African engineers, technicians, and entrepreneurs now."
In an interview, Akon projected that the project has installed 13,000 streetlights and reached about 100,000 homes. After the pilot project is over, they intend to extend the services to the remaining population.
Since launching in 2014, the project has operations in 4 countries including Senegal, Sierra Leone, Guinea, Benin, Niger, and Mali.
The group launched a Solar Academy at a United Nations Sustainable Energy for All Forum in Bamako. Situated in Bamako, Mali, the Academy teaches students about using solar panels to light Africa to over 600 million people.
"The professional training center of excellence targets future African entrepreneurs, engineers, and technicians." Thione Niang said." With this Academy, we can capitalize on Akon Lighting Africa and go further."
.