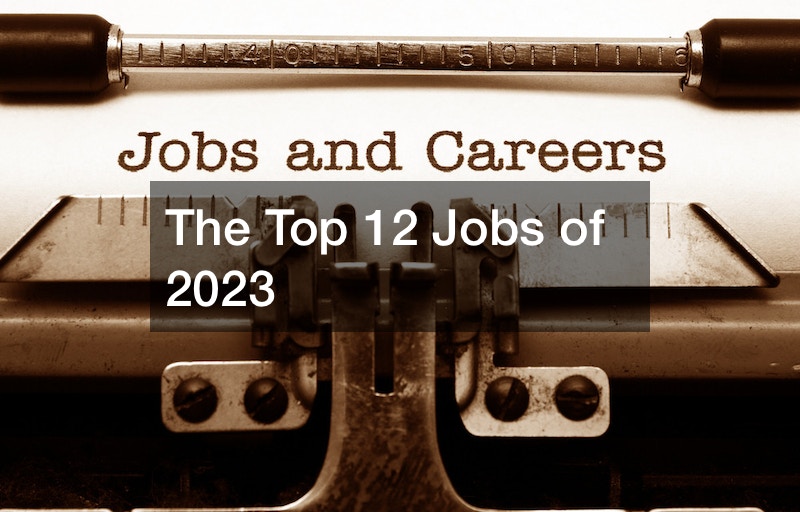 As we look forward to 2024's job market, it can help to consider 2023's top jobs. This article considers both professional career positions and gig positions that individuals may use as night jobs or weekend jobs. If you want to make a career change or have yet to decide on what to study after high school graduation, let this list provide a starting point for job titles that will likely continue to experience growth in 2024. A career position experiencing growth provides a better chance of getting hired after finishing school.
1. Arborist
Consider the position of arborist if you dearly love trees and the great outdoors. Typically employed by tree nurseries, this position among the top jobs combines science, medicine, and landscaping. Arborists complete college, usually earning a four-year bachelor's degree. Some research arborists continue in college, earning a Ph. D. Expect to work a 40-hour work week while saving trees from diseases and pruning trees to keep them healthy.
2. Lawyer
Always among one of the top jobs, attorney or lawyer keeps growing as a career position because new specialties continue to develop. As the world develops, so do legal specialties such as fin-tech attorney, blockchain lawyer, and virtual worlds attorneys. Plenty of positions for criminal defense lawyer still exist if you always wanted to practice in that area.
To work as an attorney, you'll need to complete a bachelor's degree, followed by a juris doctorate. That equals seven to eight years in school. Practicing law also requires interning at law firms or for judges before graduation. You will also need to pass the bar exam in the state you want to practice before going to work for a law firm or hanging out your own shingle.
3. HVAC Technician
Have you noticed a plethora of HVAC company options in your area? Central heat and air conditioning systems and mini-split systems have become so ubiquitous that they spawned a massive repair industry. These technicians complete a variety of projects, including installing new systems, repairing or updating existing ones, duct cleaning, and conducting energy audits to determine the system size a building requires.
As one of the top jobs that requires less than a two-year program, it has become more popular. Typically, HVAC technicians attend a vocational or trade school, and then complete a short residency at an existing HVAC company. Expect to study elements of electrical and plumbing work as a part of this program. After fully completing the program and training, you could open a business or go to work for an existing company.
4. Surgeon
Surgeon continues as one of the top jobs. Becoming a doctor has long been a popular option, but the explosive growth in cosmetic surgery has created a need for more cosmetic surgeons. In this career, you would help others restore their appearance after an accident or surgically repair a person born with a physical defect, such as cleft palate. Many patients visit surgeons for scar revisions following surgeries or suffering burns.
This top job requires a significant time in school – even longer than an attorney. Earn a bachelor's degree, a PhD, and an M. D. The schooling equals about eight to nine years. After this time of study, the potential doctor completes an internship year, and then a residency. Finally, the student passes the medical board exam in the state in which they want to practice and becomes a doctor.
Jobs in this field range from solo practice to hospital positions. Some doctors join a non-profit like Doctors Without Borders, which provides free and low-cost services abroad, typically in Third World countries. Other doctors join med spas or medical clinics.
5. Demolition Contractor
Working as demolition contractors bears no resemblance to "Demolition Man." Just as building and new construction have grown as an industry, so has renovation. That requires demolition services to remove the existing building materials and, sometimes, the building itself. Since the U.S. currently experiences a housing shortage in many cities, and developers want to address that, this position will likely continue to rank among the top jobs.
Although you can learn most of the technical knowledge in vocational or trade schools, many general contractors who specialize in demolition services earn a bachelor's degree. Your state may require licensing or certification of skills. These differ by state, so check with your state government and municipality for code requirements.
6. Window Treatment Consultant
With all that building and renovation ongoing it probably won't surprise you to learn that positions in the interior decorating and design industry continue to grow. Window treatment consultant ranks among the top jobs whether as an independent contractor or at shutter companies. This interior design professional also advises homeowners on window shutters that are installed on the exterior of the home. Besides shutters, this position also recommends shades, drapes, curtains, valances, curtain rods, and window trim.
A specialty within the industry of interior design, individuals in these positions typically earn a bachelor's degree. Some states require special licensing or certification. Some individuals in these positions complete a vocational or trade school program.
7. Towing Professional
Consider the position of towing professional if you want to land one of the top jobs that doesn't require college. Working for an emergency towing service requires a commercial driving license. Earning that requires a vocational or trade school program of less than one year.
While training for this requires little time, you need to provide empathy and superb customer service. As a tow truck driver, you will serve people in times of trauma or stress. Their vehicle has either broken down on the roadside or they've been involved in an accident. You need to be a true people person to do this job well.
8. Web Developer
Nerds who love writing computer code rejoice. Web developer now ranks among the top jobs in the U.S. If you have a knack for coding HTML, JavaScript, CSS, SHTML, and/or Python, you could have a bright future in front of you creating websites and apps. A talent for graphic design helps, too, since this position envisions the whole website from sketch to finished design.
You can become a web developer without a college degree since the position requires a two-year vocational or trade school program. Most companies who hire for this position also want to see certifications in specific areas, typically those earned from Microsoft and Cisco. Schooling doesn't end for web developers, who must upkeep their skills through continuing education programs to learn emerging programming languages.
9. Personal Shopper
If it seems like no top jobs require no additional education after high school, you're right. Try personal shopper as a great option if you don't want to continue school. A personal shopper obtains a shopping list from their client, then fulfills it and delivers it to the individual's home. Some shoppers handle groceries and pick up prescriptions, but others who exhibit great style and savoir fare specialize in clothes shopping or gift shopping.
The position requires a mode of transportation, such as a vehicle or an Uber or Lyft ride, so you can transport the items to the client's home. Although many people enter personal shopping by signing up with InstaCart, Shipt, Postmates, or a similar service, others found an independent business. Although the client provides the funds for shopping, the personal shopper charges a modest fee of not more than $20 for completing the errand.
10. Gig Driver
Gig driver numbers among the top jobs and requires no further education. As long as a person owns a newer model vehicle and maintains a valid driving license, they qualify to drive for Uber or Lyft. If neither of those services serves your area, consider operating an independent taxi service. You only need your high school diploma and driver's license for this job.
Gig drivers spend hours driving around the town or city in which they live. They also spend hours with strangers, so it requires a personality that enjoys spending time with people. A strong knowledge of the local area doesn't hurt since vacationers typically ask for recommendations for restaurants and things to do.
11. Nurse Practitioner
Those who wish for a job that combines the careers of doctor and nurse, look no further than nurse practitioner (NP). This position has ranked among the top jobs for a while. Above an RN in rank, but below a doctor, the nurse practitioner sees patients like a doctor would and can write prescriptions, something no other level of nursing can do. Today, the NP has taken the place of the country doctor with many individuals setting up a practice in a small town to provide medical care for an underserved population.
The flexibility of the position ensures an NP can find a job at a hospital, medical clinic, or non-profit, like Doctors Without Borders, or by going into private practice. Expect to earn a bachelor's degree, and complete a medical school program that stops just shy of becoming a doctor. Many people studying to become doctors complete this training first to create an income for themselves and practice medicine more immediately.
12. Data Scientist
Here's the twelfth of the top jobs out there in 2023. Data scientists crunch numbers to make sense of the raw big data accumulated by machine learning. While apps can assimilate the data, a data scientist decides which tests to run on the data. They might program an artificial intelligence app to do the math, but they read the reports and extrapolate meaning from the numbers.
Earn a bachelor's degree and perhaps a master's degree for this job. You'll need a strong interest in statistics and a niche field. Some data scientists specialize in sports, others in marketing or the stock market. Nearly all industries use data scientists, but some use them way more than others.
The Top Job Markets Begin to Offer All Education Levels Opportunities
During the 1980s, high schoolers wanting a top job knew they would need college. Cramming for the SATs and ACTs became the big thing. Today, the job market expanded to offer positions with top pay and growth potential to those with every level of education.
Regardless of your interests, there's probably a job available that suits your existing education level. It takes exploring the options to discover these jobs. Start by meeting with a career counselor. Most high schools employ such a person and so do many state employment offices.
Search the Internet using the keyword phrase, "jobs in (career field)," such as jobs in writing or jobs in medicine. Not every cool job like crime scene investigator or private investigator gets its own TV show. Sometimes, finding jobs like equestrian instructor, veterinarian assistant, or virtual marketing assistant takes time.
Perusing the Bureau of Labor Statistics can help you identify growing fields. For example, just 15 years ago the job of DAO designer did not exist. 20 years ago, there were no blockchain designers or cryptocurrency speculators. As new innovations develop, so do new career fields.
None of the career sites list it, but entrepreneur tops the list of jobs in the U.S. More than 90% of U.S. businesses fall into the small business category. That means it's a country filled with entrepreneurs and freelancers. Consider creating the position that you want, whether you want to bake cakes or make candy, cut hair, or trim and shape bushes.
Make a list of things you do well, such as drawing, building things with Legos, or telling stories. Did you know that Lego set designer is a real job? It combines graphic design and marketing knowledge to develop new Lego erector sets and Lego pieces for the company. By hosting get-togethers for children called focus groups, the designers discover the emerging interests of children.
Explore your interests and find the right top jobs for you. The career you choose doesn't have to sit in the top 12 of jobs. It has to give you career fulfillment while helping you pay the bills and get ahead in life.